The BCG Racing Team
Click the picture to go to BCGRacing.com
In 2002, the BCG Racing Team was born! Originally, this stood for Burgess, Coletto, Gearhart, but we've had to change it because of phenomenal interest. After Mark Martin and Juan Montoya called us, we decided to keep the initials, but change the name. It is now the Bunch of Crazy Guys Racing Team.
Here are the three original drivers for the BCG Racing Team. From left to right it's yours truly (Lance "I'm moving to the right as fast as I can!" Coletto), Shaun "I let it roll off the track" Burgess and Bill "What do you mean 'Lift'?" Gearhart.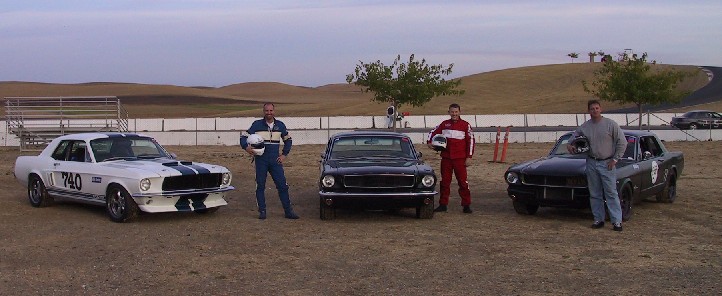 In August of 2003, a driver was added to the ranks of BCG: David Gensler took the Number 740 Coupe out for a day and a half of Open Track Experience. He is working on his own Mach One (see the Mach One page for the story), but has grown tired of watching everyone else have all the fun. He has ridden with Shaun, Bill and myself (as well as a couple other Shelby Club members) and proved that he knows the track by taking an excellent line around the track!
Here's a shot of the latest team of drivers standing alongside of our noble steeds...
Also in 2003,Street or Track was born and instantly became the dealer of choice for BCG Racing. That might be due to the fact that Shaun and Bill are the founders of Street or Track! They carry many parts for Vintage Mustangs and other cars and are always adding more. Their prices are great and if you don't see what you want, ask them what they can do for you!
Street or Track had a big booth at the Mini Nats and provided lots of great information to the great folks at the event!
Home | My 67 Coupe | Interests | Photo Gallery | Mini-Nats XX | BCG Racing | The Mach One
This site was last updated 03/03/04